ITCOTCK FILM: ROTTEN TOMATOES AND REVIEWS


100% rating in the Tomatometer score (calculated from reviews published by critics) and 90% rating in the Audience Score at RottenTomatoes.com!
And, some of the most recent new reviews...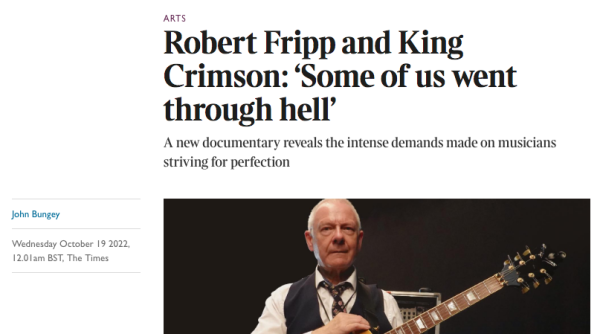 "It begins in a vast concert hall empty save for a diminutive figure on stage — Robert Fripp, guitar maestro and cerebral leader of the ancient, cultish and thunderously inclined rock band King Crimson. "The deepest experience I have is within silence — when silence walks in the room and sits down with us," he intones in his soft Dorset-tinged accent. "For silence to become audible it requires a vehicle and that vehicle is music... "

https://www.thetimes.co.uk/
. . .
"How to live and how to die and what there is to understand are some of Amies's concerns in this wondrously far-reaching documentary that also celebrates the fact that King Crimson is half a century old."

https://www.eyeforfilm.co.uk/
. . .


"There's a mystery to their music, and whether or not you're familiar with their concept, the documentary proves that the people behind the band make it an fascinating example of modern art. Amies goes through a series of interviews among Fripp's testimonies. It's not that he feels superior to the rest, it's that he believes music must elevate them above everything else.
But there's a sacrifice."
https://www.movie-blogger.com/
. . .
"A new documentary offers a psychological study of King Crimson. It is part of a spate of recent films focusing on musicians' emotional lives rather than their hits..."
https://www.newsncr.com/ & https://www.economist.com/
. . .


"Amies offers the cycle of performance and practice as a metaphor for life..."

https://filmthreat.com/
. . .
"At the beginning of lockdown, my wife handed me a tutu and a pair of her black tights and took me to the end of the garden and put on Tchaikovsky's Swan Lake. My wife insists performers have a responsibility to lift people's spirits in hard times. Do I respect that? My answer is yes, completely and utterly I do."
Fripp gets visibly emotional talking about this, fighting to hold back tears. "We're keenly aware of what people have experienced during lockdown. I mean, banged up in a small apartment while your mother's dying and you can't go to the funeral. My wife said to me, if all we've done in two years is help one person through their bad time, it's all worth it... He pauses for comic timing. "But it upset some King Crimson fans."
https://www.telegraph.co.uk/