The MusicFest Cafe Bethlehem 26th Sept 2022
Today's video comes from the Fripp/Singleton appearance at Bethlehem, PA on 26thSeptember last year. A wonderful town to visit. There was a Celtic fair that weekend, and, to my astonishment, when my feet inevitably wandered towards a marquee marked by a Welsh flag (my wife's homeland), I saw a placard describing the meaning of Mynydd Bach, which (when spelled without the gap "Mynyddbach") is the tiny village in Wales, just outside Chepstow where my grandparents used to live. It is astonishing how often we find ourselves reminded of what a small world it is.
And yes, I can say "Lanfairpwllgwyngyllgogerychwyrndrobwllllantysiliogogogoch" - which is the longest village name in Wales (possibly anywhere?)
During the day, the backdrop to the MusicFest Cafe in Bethlehem is the disused Steel Foundry...
...although that is no longer visible in the evening.
The video selection is of Robert telling the story of his time playing with The Damned.
During our evenings together Robert would sometimes apologize for "wittering on" when telling these tales. Wrongly in my opinion. I found it fascinating, entertaining and still very much alive - part of an enduring expanded present moment.
And for those interested in Crimson minutiae, it adds a touch of background to the video of their performance at The Alabamahalle in 1982 (as included in the 1980s boxed set), which is the recording that Robert describes.
In reviewing the photographs of that period, I noticed that this was also the day when I photographed some of the defects in "bus abysmal". The bashed décor was bearable (although not what one would expect on a premium "Star Bus"). The puddle of water outside was more disturbing, as it was raw sewage, also seeping into the luggage compartment and elsewhere.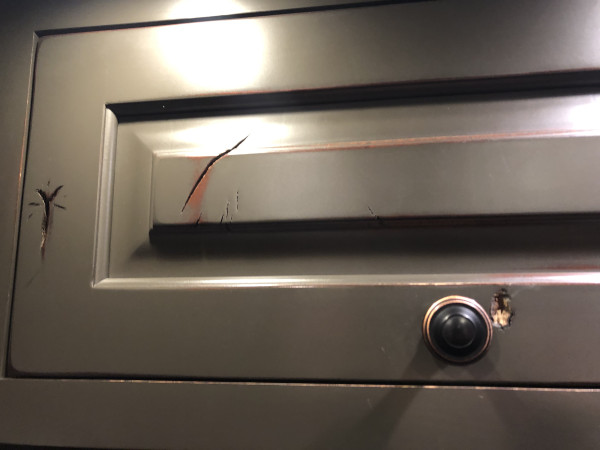 Fortunately Bethlehem was one of the few towns where we stayed in a hotel!